வேட்டைய மகாராஜாவின் வசூல் வேட்டை கேரளாவையும் கலக்குகிறது...
ஒரு பிரத்யேக ரிப்போர்ட்
Here are some of the catch words used in the theatres at Kerala:
"Thellinjirikkunnu, Ithu Rajini Yugam" (Means: It's proven that this
is Rajini's rule!)
"Vishuvinu release aaya padangalil ithu thannae Number 1" (Means: Out
of the movies released during Vishu - malayalam new year - this is
the Number 1 hit)
"Rajini Thannae Super Hero" (Means: Rajini remains the Super Hero)
and there are many more catch words that I could see used by the
theatre owners and fans associations.
Here are the wonderful snippets about the comments that I have
received at Kerala:
* Many theatres were wondering whether to release the movie in
Kerala, as Rajini's Baba was a failure in Kerala and they thought
Vijay is the hot selling hero in Kerala. Thus, many of the prominent
theatres didn't bid for CM at the beginning and unfortunately all of
them regret at the end. Classic example is Aroma Mani. They released
Sachien and it ran only 1 week in Palakkad! They removed Sachien and
started running Malayalam movies, but alas CM is found running
houseful at other theatres!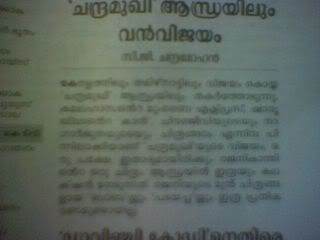 * I see lots and lots of banners of the Rajini fans in Kerala ...
something that the theatre managers confirms happened only during the
90s! Some of the theatre managers like in Sri Devi Durga wondered
whether the Charisma of this "old man" will ever subsides?!
* Sri Devi Durga theatre at Palakkad is one of the lousiest theatre
in this area. The seats are almost torn, no A/C and the fans are
almost not in working condition. Since the prominent theaters didn't
bid for CM, they did it half heartedly. Most of the tamil movies are
either run in this theatre or the theatres that belongs to Aroma
group. Now if you go beside the theatre, you could see that they are
planning to renovate the theatre ... purely based on the collections
from CM!! Finally, after many years, this theatre is found making
profits, thanks to CM!
* Padayappa ran almost 40 days in some of the prominent theaters in
Kerala and Baba ran only for 2 weeks. But CM, that's released on the
14th of April is still running and is making around 70 to 80%
collections on every show!
* Here's the facts as to the success of CM. I have seen the Video
cassets (not of bad quality) and VCD's (absolutely lousy quality) is
made available in Kerala through illegal methods. But our CM still
have people (especially families) watching at the theatres! Guess
what? Those who have seen the movies in video casssets and VCD's are
now going to the theatre to watch it in the big screen to enjoy it
more. This is purely because, they find the movie has high quality
and great charms and acting by our SS.
* I saw huge cut-outs of CM in Coimbatore, Pollachi and Palani. In
fact, I could see some cutouts near to the Palani Murugan temple road
junction itself. This cutout is raised by the Rajini fans and they
were thanking the public for making this movie a mega hit - something
in line with the banners that we in Singapore put up. Since, I didn't
carry my PDA phone at wherever I go, I couldn't capture these banners.
* In short, the news that I have gathered from the people whom I have
met in Kerala and Tamilnadu (Pollachi, Coimbatore and Palani) is
extremely positive and most of the fans are extremely happy to see
not CM becoming a hit, but CM trouncing all the competitions ... be
it in Taminadu or in Kerala!
- Prince Raj from Kerala
Member, www.rajinifans.com